9 Things Building Managers Need To Know About Re-Roofing
When preparing for a roof replacement, many business owners have one simple question:
Can my facility continue to operate while the roof is being replaced?
When you choose Mid-South Roof Systems as your service provider, the answer to that question is often, "yes". Mid-South's decades of experience have given the company practical wisdom and expertise. We'll put those hard-earned qualities to work for you to ensure your reroof project doesn't stop your day-to-day activities. And we'll do it safely and efficiently.
If you've got an occupied facility in need of a reroof, here are some potential tasks to keep in mind when you're preparing for a safe and efficient reroof operation:
1. Check the Structural Integrity of the Roof Deck
Deck integrity is always an important condition to verify when working on any existing roof, but especially so when the building below is occupied. When preparing for the job, make sure you enlist the services of a structural professional to test the integrity of the deck.
If the integrity of the deck is found to be compromised in any way, address those issues first. This will ensure the safety of both the roofers and the building occupants.
2. Cover Openings in the Existing Roof Deck
Deck openings are required to be covered with appropriate materials during roofing operations. Before a roofing crew sets foot on your roof, make sure openings are covered with properly fastened  ¾" plywood to decrease the risk of falling from heights.
3. Protect Building Occupants and the Public by Barricading Building Access Areas
Clear signage and barricades are incredibly important when it comes to re-roofing an occupied building. Construction managers should clearly define and block off areas from the building occupants in order to keep them out of portions of the building that are unsafe. Additionally, these access point closures should be communicated with occupants before roofing begins to avoid any mishaps.
4. Provide Easy Access To and From the Roof and Barricades/Signage for Parking
The goal when re-roofing an occupied building is to be as efficient as possible to avoid any extra disruption for the tenants. Roofing can be loud, and we want to be as respectful as possible while still fixing the issue. In order to do that, we always recommend providing clear signage onsite for access to/from the roof and parking. This ensures that everyone can easily navigate the construction site and allow the crew to roof as efficiently as possible.
5. Identify and Clearly Designate Roof Loading Point(s)
Clearly marked roof loading zones improve safety and efficiency.  Knowing where these areas are located makes the roof loading process easier and safer for the crew and tenants.
6. Maintain a Clean Worksite
Keeping your workspace clean and tidy is important in any project, but especially when there are customers/employees regularly moving in and out of the construction site. Keeping the site clear of debris or trash ensures that both your construction team and the building tenants can safely move about the site.
7. Provide Onsite Restroom Facilities
Roofers work from sunup to sundown., It's important to have a space for our crew members to easily access restroom facilities without interrupting tenants inside. Mid-South provides portable restrooms as a courtesy so crew members don't need to enter the building and disrupt business operations.
8. Clearly Communicate Expectations
The sooner we can get finished, the sooner you can get back to your work. We want our customers to know what to expect from our roofing operations. Mid-South will clearly communicate our process and what that means to you and your tenants and employees. Clear communication cuts down on confusion that could slow down the construction process.
9. Cover Up Exposed Deck
If the underside of the roof deck is exposed, dust and debris can fall inside the building. Some customers choose to install a temporary dust-trap/collection system ( plastic sheeting or tarps suspended below the ceiling). However, this is typically not an issue if the building has a drop ceiling. Preparing for potential falling debris before construction starts can prevent problems in the long run.
Plan for Success with Mid-South
Your business doesn't have to stop moving when it's time to re-roof. A bit of planning done before construction starts can make the process smoother for both the tenants of the building and the team working on the roof. Here at Mid-South, we work through the situations above to create our plan of action and communicate it with everyone involved. This ensures construction success on our side, a quick return to interruption-free operation for the tenants, and safety for everyone.
Get in touch with Mid-South Roof Systems today to learn more about our services and schedule an appointment. For more roofing tips and advice, check out our blog.
LIKE WHAT YOU JUST READ?
Sign up for our newsletter to get fresh articles, updates and more!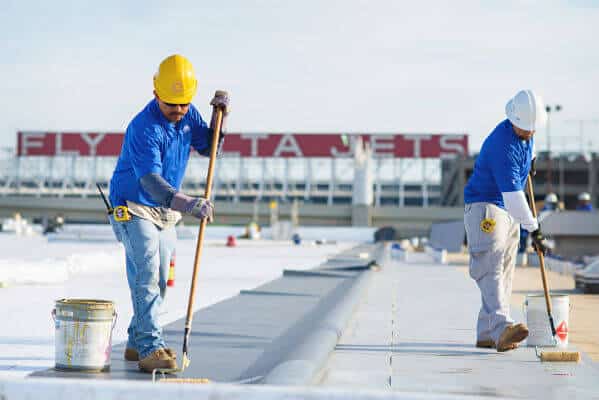 Owners of large buildings with flat roofs know that they don't have the same natural drainage possibilities of sloped roofs, and need more regular maintenance. They might not know, however, that neglecting regular roof maintenance is one of the worst things a building owner can do.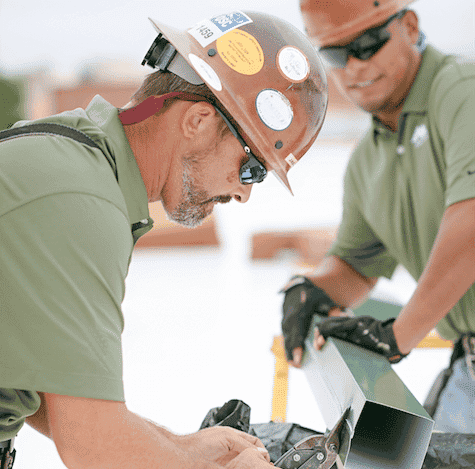 There's an old saying: "Safety doesn't happen by accident." It takes careful planning, and continuous education for worksite crew and clients alike. A professional roofing contractor will make sure that a building owner or site superintendent is as well-versed in the safety measures of a work site as their own work crew, before the team…