Case Study: Re-Roofing Your Commercial Building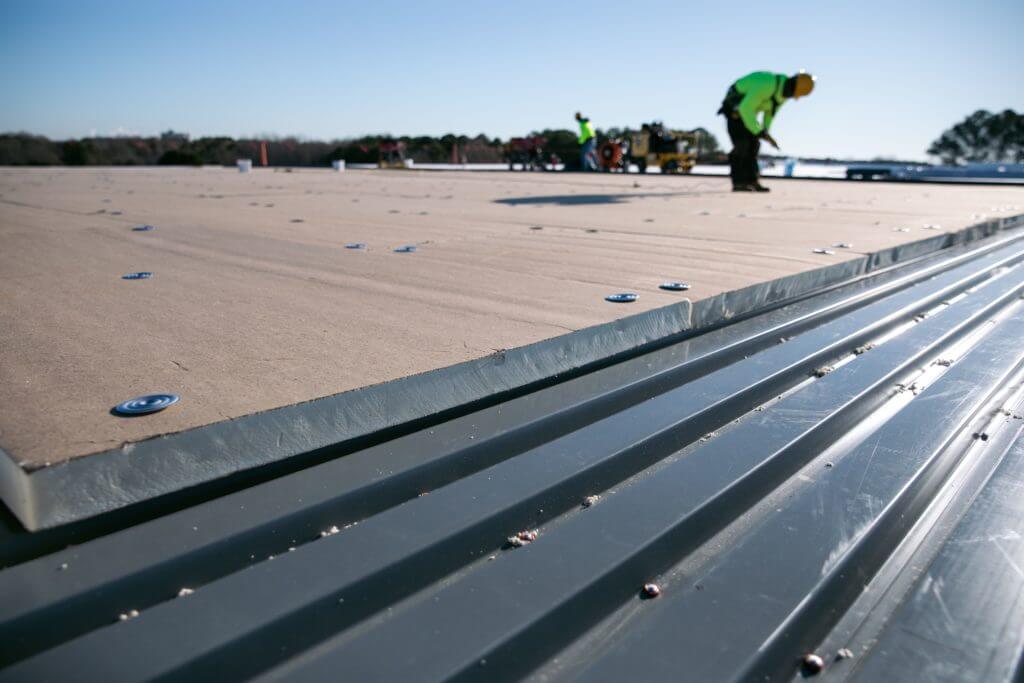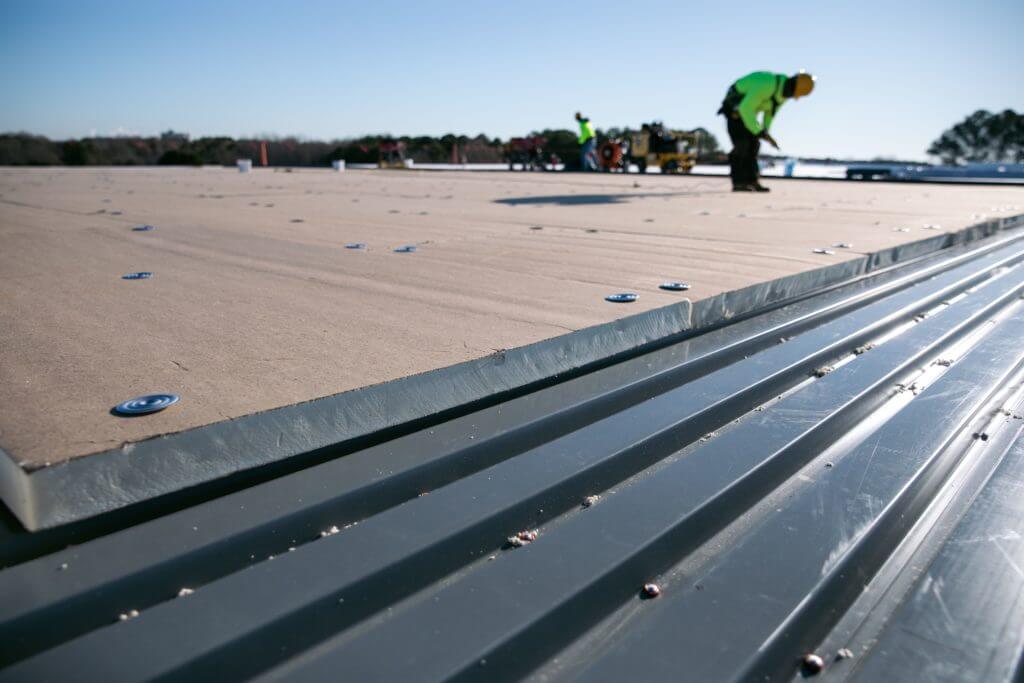 Eventually, every roof system must be replaced. Even if you've adhered to the most meticulous maintenance schedule, time and the elements are relentless. If the roof you're replacing is over an open and active facility where daily operations can't be interrupted, a re-roof may seem like a hassle you just can't afford. During Mid-South's almost 30 years of experience, we've learned how to re-roof in a timely and efficient manner while keeping your facility fully operational. Communication is key. A Walmart distribution center we recently re-roofed showcases our capabilities.
Case Study: Walmart Distribution Center – Cleburne, Texas
Within the past year, Mid-South completed a re-roof project of the 500,000 square feet Walmart Distribution Center in Cleburne, TX. The existing roof was standing seam metal. Mid-South decided a TPO (thermoplastic polyolefin) membrane system would be the best option to replace the metal roof on this facility.
Metal roofs are generally installed on new metal buildings to keep construction costs down. They don't require any internal support walls, columns, or beams. This option is effective for large distribution centers like those used by Walmart. These types of roofs maximize the operational surface area below by allowing a more open floor plan. The downfall of this roof style is that it expands and contracts more dramatically. This shifting will usually cause serious roof leaks after about 10-15 years. For a distribution center like the Walmart-Cleburne, TX location, water intrusion could be catastrophic.
Mid-South's goal was to bring a long-term, cost-effective solution to a problem that our client may not have anticipated. It's extremely costly to replace one metal roof with another. We suggested a single-ply TPO roof system instead. This affordable, energy-efficient option is easier to install and is better suited to handle thermal contraction and expansion.
Throughout the re-roof project, it was essential that the distribution center remained fully operational. In addition to the employee team, the facility housed a massive inventory including food, household supplies, health and beauty products, and clothing. Mid-South's job was to communicate with the Walmart team to ensure that there was little-to-no disruption in their day-to-day operations as we worked. This type of collaboration requires a balance between the needs of the construction team and the needs of Walmart and its employees. Mid-South worked with Walmart daily to accommodate movements such as pick up/delivery times and shift changes. This allowed Walmart's team to continue working normally.
That diligence in communication led to success. This re-roof project exceeded the expectations of our clients. Mid-South estimated the project duration at 45 days. Our crew ended up completing the re-roof in 30 days. Mid-South's field and office workers coordinated with Walmart to bring this Texas-sized project to successful completion.
How do I know it's time for a re-roof?
A variety of reasons might be an indicator that it's time to re-roof your building. Among these are age, water damage, gaps, cracks, and irreparable deterioration. If your commercial roof inspection report calls out a combination of these issues, it may be time to re-roof instead of repair.
We realize that the decision to re-roof your facility can be a tough financial call to make. But when your projected ongoing maintenance costs surpass the cost of a re-roof, your decision is straightforward. The potential consequences of working under a compromised roof are many and serious. These risks include employee injuries, damaged assets, and decreased or stopped production.
What can I expect to keep my space secure and functional?
At Mid-South we completely understand that your commercial building must be watertight and fully operational throughout the entire re-roofing process. We take pride in our reliable communication and will work hard to keep your business running smoothly. Before we start we'll develop a thorough understanding of your building's unique needs to accommodate your daily operations as we install your new roof system.
We also place spotters inside the building to ensure our operations on the roof don't affect those occurring below it. A constant flow of communication between our foreman and the facility safety manager ensures there are no unaddressed issues. Our crew leaders watch the weather closely and will avoid opening up more of the roof than we can feasibly cover in the event of an incoming adverse weather pattern. Every evening we make sure the roof is properly sealed before we pack up for the day.
What does the warranty look like?
Roof warranties typically last 10-15 years. In the first two years of your warranty, the Mid-South crew will likely support in the event of a roof issue requiring repair. In the remaining years, the roof manufacturer is the one to call when a roof problem arises. The manufacturer will assign a certified crew depending on geographic location and availability. You can rest assured that your new roof investment will be protected.
The Mid-South Difference
Our goal is to lay the foundation for a lifetime partnership with our clients. Our repeat customers return to us because we're committed to getting the job done right the first time. Proactive communication and managing expectations are critical when coordinating a successful re-roofing project. We've completed jobs from 1,000 square feet to over 3,000,000 square feet. No matter the job, we have the experience necessary to navigate the complexities of re-roofing above commercial spaces.
LIKE WHAT YOU JUST READ?
Sign up for our newsletter to get fresh articles, updates and more!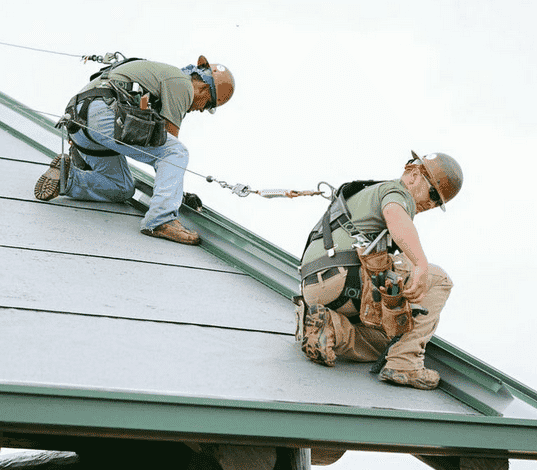 A roofing company with a stellar safety record can earn a contract even when their bid isn't the lowest. Why? Because roofers with strict safety practices protect not only their employees, but also the building owners and general contractors against legal exposure from accidents and injuries. What's The Average RIR? Roof safety starts on the…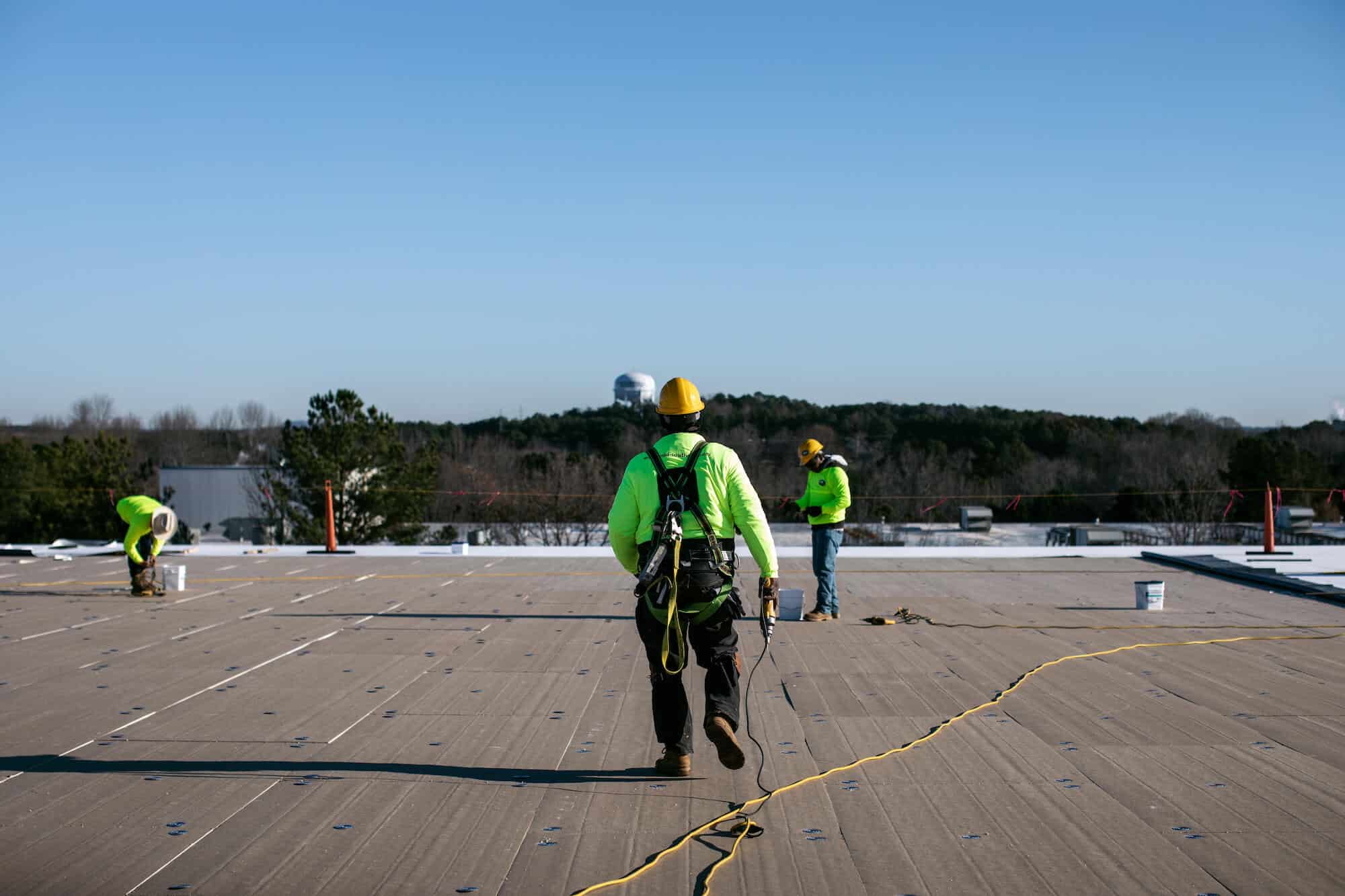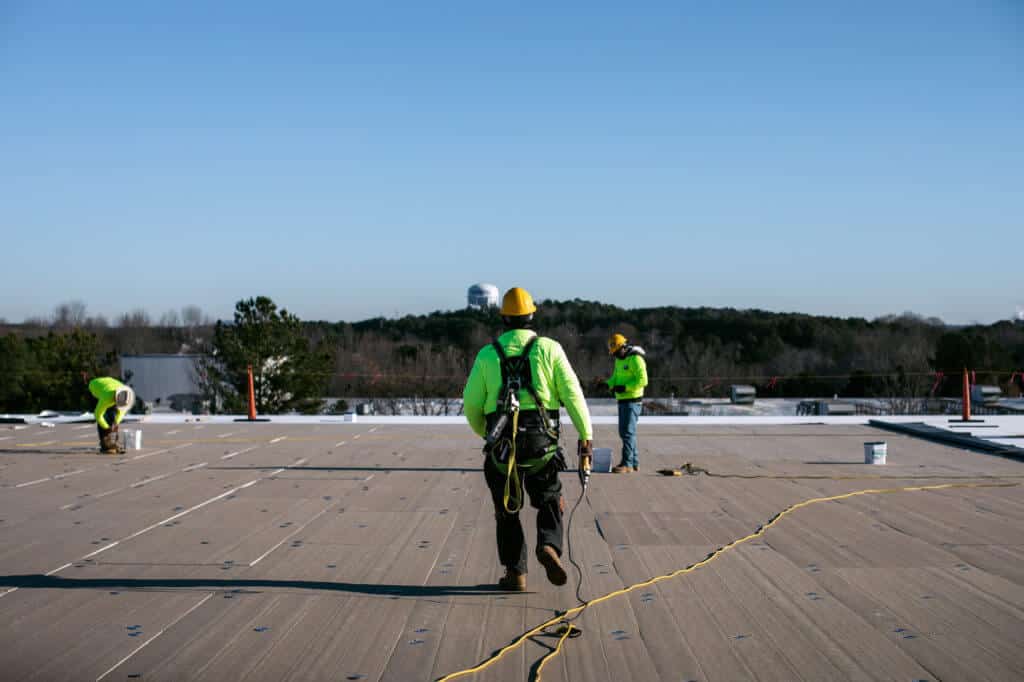 While the importance of routine roof inspections cannot be overstated, it's equally critical to find a trusted roofing contractor to perform those inspections. In this blog post, we'll cover what to look for in a roofing contractor and when you should consider getting a second opinion.